As a healthcare staffing company, Frontline Healthcare Staffing realizes the toll the nursing profession and travel can take on our staff and believe our nurses should have easy access to resources they have available to them.
Operation Happy Nurse is a 501c3 nonprofit organization whose goal is to decrease stress, anxiety, and depression in the nursing profession.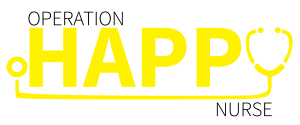 Operation Happy Nurse
Operation Happy Nurse is a FREE online stress-relief community for nurses that offers the following resources:
Book Club, Nutritional Support, Discussion Boards, Nurse Blog, Mental Health Resource Blog, Monthly Playlist, Monthly Discounts, Events, Fitness, Yoga and Meditation Videos, The Self Care Podcast, and Hotlines for those needing immediate help.
Use the link below to visit, learn more, and sign up!